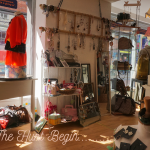 LET'S MAKE A DEAL
08/11/2023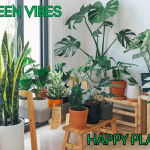 GOOD VIBES PLEASE
09/09/2023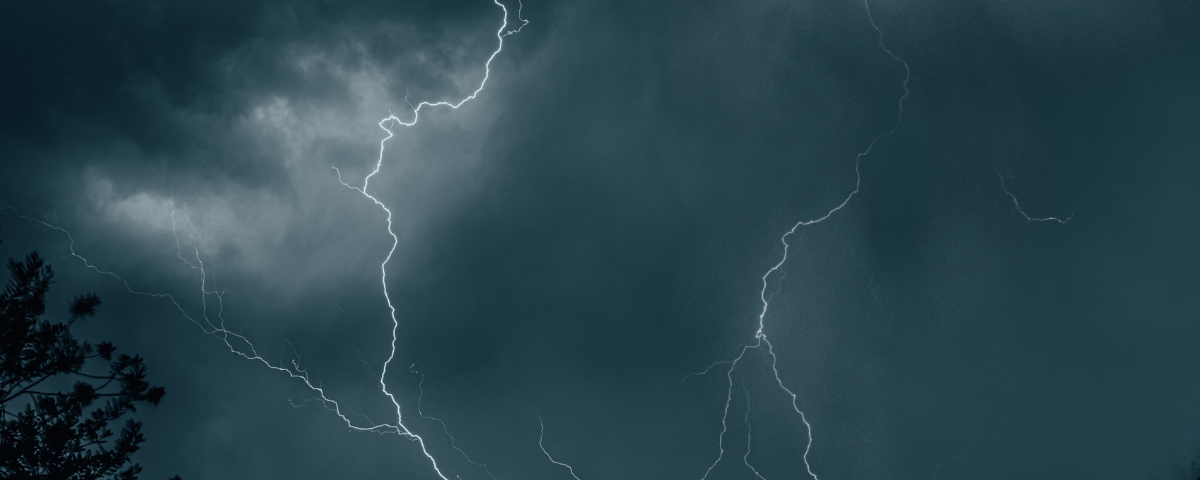 THE STORM IS OVER
Beautiful spirit, Happy Friday! It's a beautiful day in the neighborhood! Thank God for protection during the Thunder and Lightning.
Boy do I have some news for you! Remember the thunder storm last week? Well, I do. And it was a scary situation.
NATURAL DISASTER
This is how it went down. Last week when it was thundering, lightning and torrential rains were coming down, in downtown Summerville, Mother nature decided to say, hello to my little black beauty named, Faith (my car.)
Me and Faith were enroute back home from an appointment. As we were sitting at the light near Berlin G. Meyers, there was a big boom. Thinking that I was hit by another vehicle, I turned around to look, realizing that there was not jolt, I saw that my back window was shattered with a hole on one side. Only God can explain it, because I can't. All I can say is, I wasn't hit by the truck behind me, and I wasn't struck by lightning. But, what I can say is, the impact of what I'm calling a sonic boom, shattered and blew out my window.
Me being the curious person that I am, I looked up such incidents online, and realized acts such as this was not something new.
After this experience my only goal was to get home, as the torrential downpour had subsided to a light sprinkle. During this time, I am as cool as could be. And no, in case you are wondering, I did not get out of the car the whole time. I waited until I got home and into my garage.
Once I finally made it home, I got out of the car in disbelief. I had questions swirling around in my head, such as, "did that really just happen?" Still cool. I got into the house and began to think about what just happened, and how the outcome could have been much worse. The attitude of gratitude was front and center.
I called the insurance company to report what happened and the agent on the other end was apologetic and compassionate. They gave me the information to secure a rental car while Faith was getting fixed.
A local company dressed in red, came in like Superman leaping in a single bound, and got Faith back up and running. Shoutout to the Superhero in red. You were awesome!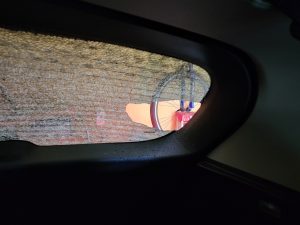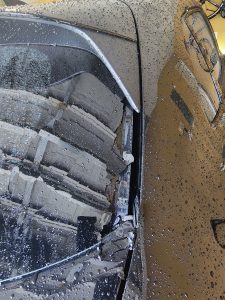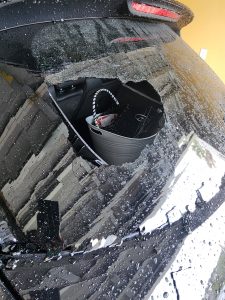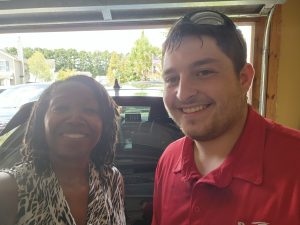 The pictures reflect what I've been telling you about. The culmination of this story standing behind Faith. That is my excitement for the week and is an experience I'll remember for the rest of my life!
What is an experience you've had that you've had that you'll remember for the rest of your life?
ANGELS ON ASSIGNMENT
I believe angels were protecting me last week. There were no fires, or glass blown throughout the car. The damage was only to the back of the car. Namely the window and the pieces of glass that fell on the rubber mat that lines my trunk.
I wanted to share this because you never know when you leave your house for work or wherever you're going, what's going to happen. If you don't pray, start. Make sure you pray for traveling mercies as you leave and return home safely. I almost forgot. I keep a bracelet in my car, that says, Pray First. It is a constant reminder. Take heed.
This is the Quote of the day. Psalms 91:1 on Bible Gateway sums it up.
Now off to get Faith cleaned!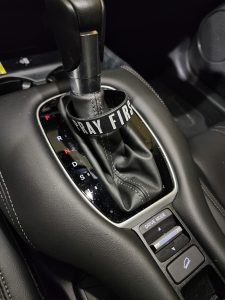 UPCOMING EVENTS
As the holidays approach, be on the lookout for GEM Designs' participation in select Craft Shows and Festivals. Once we get the dates and other details, we will post them on our site. If you want to be in the know, make sure you've opted in and it will come direct to your inbox.
We have new handmade gift tags that we'll be uploading. You can preorder, as well as request larger quantities. Most of our tags are sold in quantities of two or six.
In the meantime,
XOXOXO
The Connector