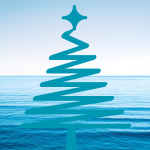 5 HANDMADE & BEACHY GIFT TAGS
07/27/2023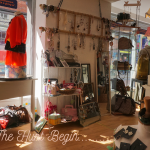 LET'S MAKE A DEAL
08/11/2023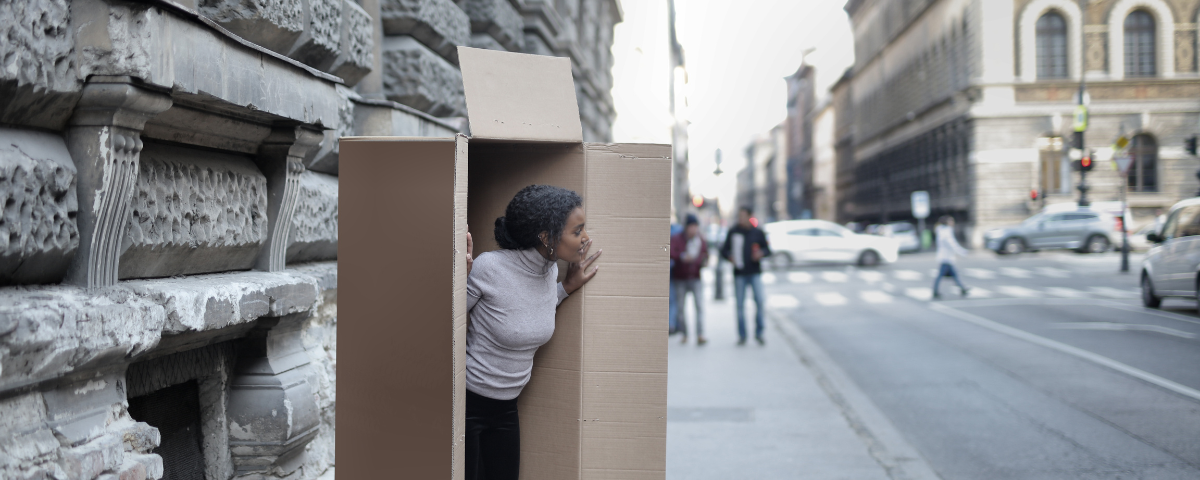 YOU CAN DO IT
Beautiful Spirit, how art thou? This post is a real humdinger! " Plainly stated, " Get Out of the Box." You can do, it!
This week's quote also hits the nail on the head. "Instead of thinking outside of the box, get rid of the box." – Deepak Chopra
First off, Happy August! Yes, it's day two of August! Time is moving in case you didn't notice. Are you moving with it?
This leads right to my topic. Yesterday, I was at my booth at Antiques and Artisans, 619 Trolley Rd in Summerville, straightening up and marking things down. Before I leave the store, I always walk around to see what's new and what might catch my vision for purchasing. As I walked down the aisle, I saw my friend Sheri, working in her booth. And low and behold I stopped, we began to chat, and off to work I began. In her booth that is.
The creative juices started flowing, I began to assist with rearranging, and overall moving items, and it sparked more conversation. The conversation was one of "I never thought about that"." "That's a great idea." "I need to get out of the box." Yes, "we" do need to get out of the box!
How often do we find ourselves in the proverbial box? Have past experiences kept you from stepping out of the box? What do you have to lose? It's time for to leap. Get out of your comfort zone. Try some new things. Challenge yourself. By the way, I believe in positive self talk.
Back to my story. We had so much fun until we lost track of time. We were in the zone! Sheri loves the beach, and she has some cute items that are reflective of that. Stop by Antiques and Artisans and look for the display in the picture below. Check out that Pearl Christmas tree with the turquoise backdrop. All of the blue hues give beach vibes. When you stop by, and Sheri's there, tell her I sent you. 🙂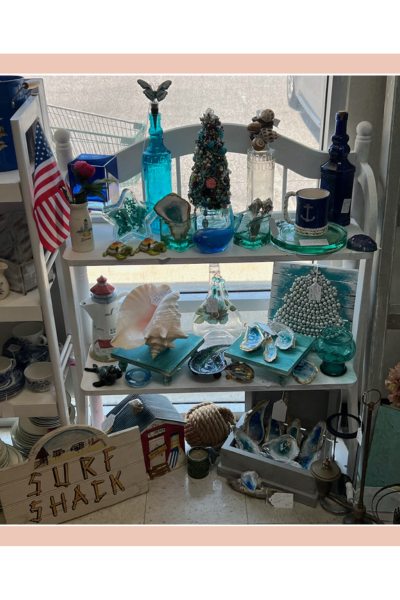 Blogs can be fun to read. But in this case, I am challenging you, and myself, to get of out the box. In some areas, the box may be non existent. But in other areas………… You fill in the blank.
After me and Sheri changed things around a bit, and created space for more fabulous finds, we both went home.
By the way, Sheri sent me a message today, saying she sold several items that were displayed. One of which was the Surf Shack. Yay, Sheri!!!!!
The moral of the story is, life's about trial and error. Doesn't that phrase sound familiar? I know you've heard that before. Try something different. Dare to trust yourself! That's provided you're not doing something that could be detrimental. What can you learn if you don't try? So, go for it! You'll either learn, or you'll learn. Yes, I said it right. Either way, it's a learning experience.
Whew! That was fun! It didn't seem like work at all.
Before I close out, remember in my last post I said stay tuned…I'll be adding these cuties to my booth tomorrow. I was happy to learn that, I too, sold a few items yesterday. Several packages of my Christmas handmade gift tags went home with a lucky customer. Go GEM Designs, LLC!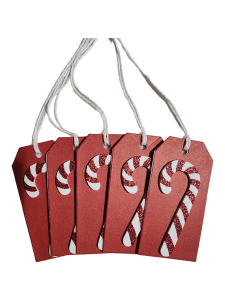 I currently have a 30% off sale going on in my entire booth. So if something's already marked down, there's additional savings for you. Let me know what you think. When you stop by, take a picture and share the item you purchased.
It's often said that "knowledge is power." Wrong! "Knowledge, applied is power!" Kick that box over, and have fun doing it! Or, as the cover photo depicts, step out!
XOXOXO,
The Connector